Today, every school administrator and school board is aware of the need for security protocols to protect students from shootings, but many either don't know where to start or don't know if they've done enough. With so many questions and education security solutions, making sure you have the right mix of practical and technological measures is still a relatively new and seemingly daunting responsibility.
But one thing is clear: there is a growing need for some kind of intervention. The unfortunate facts remain that about 25% of mass shootings from 2000 to 2013 took place in schools, and among shooters 18 years or younger, 88% of their attacks were on their current or prior schools. Keep reading about our school safety checklist to see how you can get started or improve upon security upgrades in your district.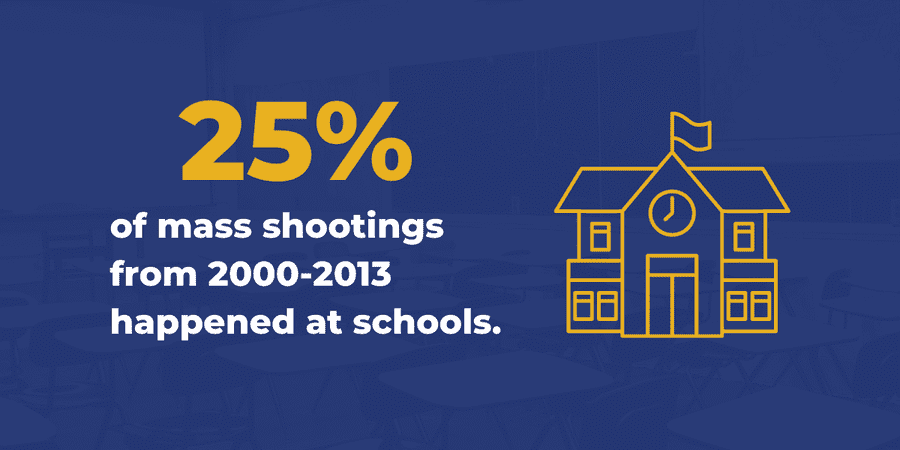 Safety Issues That Should Influence Your School Security Plan
Rise In School Gun-Related Violence: A whopping 310 schools and 292,000 students have experienced gun violence since Columbine in 1999. On top of that, the FBI reported in 2020 a 100% increase in general active shooter incidents since 2016 with no apparent geographic propensity.
Negative Effect on Student Mental Health: The repercussions of gun-related violence in schools is much more complicated than numbers alone may indicate; the impact of tragic school violence may also be weighing on adolescents' emotional states. This 2021 study suggests that school shootings and violence in the past decade may contribute to related depression, anxiety, and panic-related symptoms six months later.
Decreasing Student Enrollment: Many schools had to respond to a viral 2021 TikTok challenge that called for school violence. And while the threat was mostly deemed not credible, it caused stress and anxiety for students, staff, and parents, resulted in some school cancellations, and naturally put law enforcement across the nation on high alert. In fact, schools are even beginning to see a drop in student enrollment directly or indirectly as a result of gun-related violence in the classroom.
Mass Shootings Can Happen Anywhere, Any Time: While school shootings may seem limited to big cities, the truth is half of school shootings have taken place in small communities with 50,000 or fewer residents. With the seemingly unpredictable location of school shootings and overall rise in both numbers and negative related consequences, it's only reasonable that all schools should take precautions.
How to Create a School Security Checklist
School leaders can start crafting or enhancing their school safety checklist at the federal government, where the Federal School Safety Clearinghouse website, SchoolSafety.gov, provides many resources for administrators, educators, parents, and law enforcement personnel to address issues of safety, security, and support in K-12 schools. There, you can find informative webinars and even a Grants Finder tool where you can see what federal funds may be available based on your particular safety topic, such as targeted violence in this case.
Many school associations also provide support for schools, often offering local support and contact information to help schools develop their security and safety plans.
At ZeroEyes, we recommend school administrators go through a detailed school safety checklist to determine both their strengths and their vulnerabilities. Such detailed plans should be considered at various layers:
Campus-wide
Classroom
Building perimeter
Parking lots
Adjunct buildings
You should take a multi-pronged approach that balances both reactive and proactive solutions to your school safety checklist, including but not limited to these 10 strategies: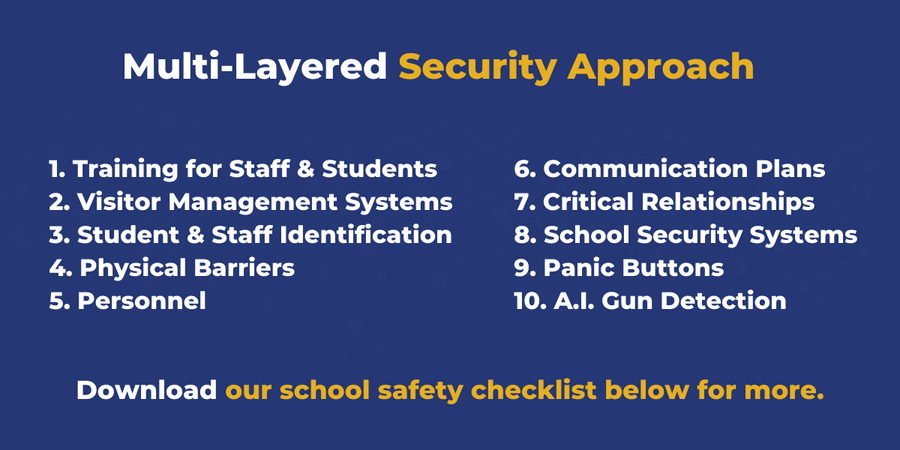 Training, which includes emergency protocols and frequent security technology testing and maintenance. You are no doubt familiar with ALICE, which stands for Alert, Lockdown, Inform, Counter, Evacuate, and calls itself "the original active shooter response training." ZeroEyes has also created a safety plan template with the simplified Run, Hide, Fight active shooter response, which is a recommended strategy by our company's former Navy SEALs.
Visitor management systems, such as basic badges and more advanced entrance controls. Keep in mind any loading docks should be equipped with the same visitor management system or technology as the main entrances. The pandemic has brought to light the need for better access control and visitor management for health reasons and in turn, these digitized records can also play an important role in the general safety of your school or classroom.
Student and staff identification, including background checks and identity cards. A 2019-2020 study by Pew Research indicated there were still 23% of U.S. public K-12 schools that did not require staff/faculty to wear badges or picture IDs. At a minimum, badges are an easy way to identify those who belong at school at a glance. Among other things, today's badges can even store other important identifying information such as emergency contacts and medications.
Physical barriers, including the elimination of hiding places, barriers to prevent cars from having easy access to facilities, and locks on windows and doors to prevent penetration from outside. One approach would be to start at your school's perimeter and work your way in, taking notes along the way, and considering different points of view. Your school's architect or designer may have suggestions here that also comply with local codes.
Personnel (roles and training), including sufficient security to monitor security systems and training of staff and students about the importance of complying with security procedures. A plan on paper means nothing if it can't be implemented, so we recommend several practice runs with different variables to take into account the unexpected. Typically, School Security Officers (SSOs) from private agencies will often manage these duties whereas School Resources Officers (SROs) are sworn officers responsible for your school's safety and crime prevention.
Communication plans, including immediate contact of first responders and administrators at the first appearance of a firearm on campus and ongoing communication with law enforcement (both features of ZeroEyes), an automated lockdown announcement for the PA system, and sufficient authorized personnel to declare lockdown. You should also be familiar with the difference between "shelter-in-place" versus "full lockdown," for instance.
Critical relationships with local law enforcement and first responders, including practicing and drilling emergency protocols with first responders on campus to give students, staff, as well as those emergency responders the most comprehensive experience. Your local law enforcement should be knowledgeable about what specific laws are applicable in your state or at the federal level, and can help plan for conflict resolution or unpredictable situations and more.
School security systems, such as sufficient security cameras to cover all vulnerable areas on top of main traffic ways. Make sure there are no visual obstacles to your cameras, they are out of the reach of potential vandalism, and the area is well-lit. While it's likely your school has a security system in place, it's never a bad time to reassess its effectiveness or complement it with evolving A.I. technology.
Panic buttons or silent alarms that are connected to law enforcement. These can be wearables, pendants, hardwired, or through a mobile app. Several states like Florida and New Jersey are even requiring the use of panic buttons in public schools as a result of Alyssa's Law, legislation inspired by the tragic shooting death in Parkland. It is recommended you have several panic button options throughout your school for maximum accessibility to those in the know.
 Visual A.I. gun detection. In the case of ZeroEyes, our proactive, innovative visual A.I. gun-detection system seamlessly integrates with your school's existing digital security camera and alarm systems. Our software is programmed to unbiasedly detect visible weapons, and weapons only. It works around the clock and in as fast as 3-5 seconds, can alert authorities and the right persons if a gun is detected.
Compared to other gun-detection technology, such as concealed weapon sensors, metal detectors, and acoustic gunshot detection, ZeroEyes technology is a relatively low financial entry point with higher accuracy rates. We can even configure a solution tailored to your operations that's either cloud-based or an on-site installation. And because A.I. can operate on its own, it can save time, money, and resources.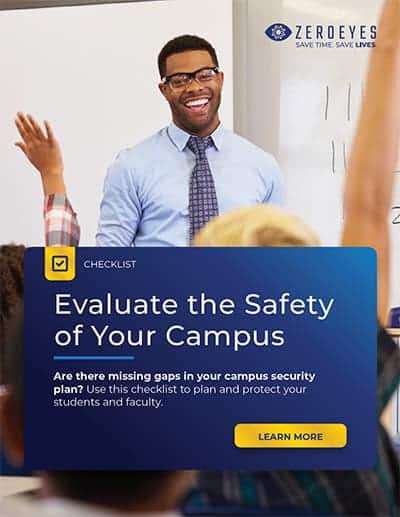 Have Questions About the Safety of Your Campus?
Download our CHECKLIST to evaluate the safety of your campus and discover how ZeroEyes can fill the gaps in your security.
DOWNLOAD CHECKLIST NOW
Safety Plans for Schools Are Critically Important
A proper school safety checklist creates an environment that can significantly decrease or at minimum, strongly discourages the likelihood of a tragic school shooting. Keep in mind that all plans and policies should comply with the Family Educational Rights and Privacy Act, otherwise known as FERPA.
We understand that creating a thorough threat assessment protocol and developing a safety checklist for schools to deter mass shootings takes time and attention to detail, but they are critically important for the safety of your staff and students. The ZeroEyes visual gun detection AI can be an important component of your total school security plan, but as you read, many other factors should also be in place as well.
Contact us to see how we can help you create the safest environment for your students and staff.