EDUCATION
Given the countless mass shootings that have occurred – and continue to happen – it's clear that a proactive solution is needed to help keep students and staff safe. Learn how ZeroEyes AI technology can turn your existing cameras into an enhanced layer of security.
DID YOU KNOW?
In a study of 160 active shooter incidents in the United States between 2000 and 2013, it was found that incidents in educational facilities account for some of the higher casualty counts, such as in the Sandy Hook, Newtown Connecticut, and Virginia Polytechnic Institute and State University shootings. (FBI)
SINCE 1970 THERE HAVE BEEN
THE ZEROEYES SOLUTION
Our AI weapons platform is one component of your school community's multi-tiered security approach.
WEAPONS DETECTION
Our software integrates with an organization's existing camera systems and video analytics to detect weapons in real time.
REAL TIME ALERTS
If a threat moves throughout a facility, ZeroEyes will detect their weapon on each camera wherever they are within view, and an alert is generated each time a weapon is detected.
PRIVACY
Our AI platform focuses on weapon detection, it does not record, store, or share video or images of customers, or any one else, ensuring that privacy is maintained.
UNPARALLELED MONITORING
Human intervention is critical with AI platforms, the military experience of our monitoring personnel is a key component of our solution. They monitor every detection 24/7/365, and once a threat is verified, can notify appropriate school security personnel and first responders.
ACTIVE SHOOTER EXPERTISE
As military veterans who have been involved in countless active shooter situations, that experience allows us to know exactly what a first responder needs when responding to a threat, and gives us credibility with law enforcement and security personnel.
LEAD
people to evacuation points
DIRECT
first responders to precise locations​
MARSHAL
people to safe zone
LOCK
down building as required
INCIDENT REVIEW
SANDY HOOK ELEMENTARY
OVERVIEW
In this scenario, a shooter walked up to the school's locked doors, shot through glass, and began terrorizing the entire facility – room by room. Police arrived on the scene and waited 7 min before entering.
EXISTING POLICE SECURITY MEASURES
☑ Locked Doors
☑ Quick Police Response Time
☑ Alarms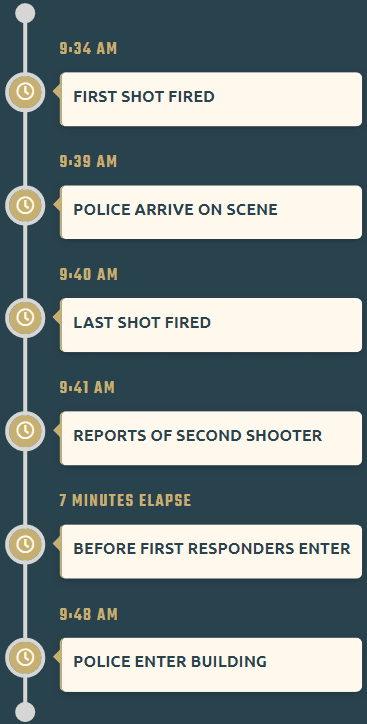 ZEROEYES ANALYSIS
Nothing can fully prepare school officials or students for how to react to an active shooter scenario. The people who have survived these horrific events do not generally have any military training, putting them at an extreme disadvantage.
Our proprietary AI weapon detection system integrates with existing security cameras to quickly identify and confirm the number of shooters and guns.
Once the AI identifies a gun, an image is sent to the ZeroEyes 24/7/365 monitoring team to positively identify the threat, reducing the risk of false positives.
Then a camera image is sent via text alert to the designated security personnel for your building and to local emergency dispatch with the exact location of the shooter. The generation of the alert, monitoring, and dispatch occurs within 3-5 seconds, allowing for security protocol to be triggered and lives to be saved.
By seeing exactly where a shooter is in real time, security personnel can lock doors and move people to safety, while first responders have quality intelligence of the situation, rather than piecing together information from a patchwork of 9-1-1 calls.