We founded ZeroEyes to help stop mass shootings and gun-related violence. Our mission? Save time and save lives. We can achieve this with our proactive visual AI gun detection technology, which identifies brandished guns and dispatches alerts to local staff and law enforcement as fast as 3-5 seconds from the moment of detection.
We've trained our AI model to be the most comprehensive visual gun detection in the world by using hundreds of thousands of proprietary images and videos of guns in diverse environments, including: schools, casinos, shopping centers, healthcare facilities, commercial properties and soon, transportation systems. 
To be clear, ZeroEyes is object detection software that identifies guns, not people or behavior. We are solely focused on identifying brandished guns and providing accurate and actionable intelligence to first responders and other authorities. Our algorithms look at each frame to determine if a gun is present;  they do not look for faces or body types. Our team does not see a live feed from any cameras. In fact, our platform only presents an image when it believes it has identified a gun. Otherwise, until a gun is identified, the monitoring screens in the ZOC stay absolutely blank. Further, our platform does not  monitor for or store personal or biometric data and does not conduct any kind of facial recognition, so there is no risk of bias based on skin color or other personal characteristics. 
When our AI detects a potential gun, the image is flagged to our ZeroEyes Operations Center (ZOC), which is staffed 24/7/365 by former military and law enforcement veterans who are able to rapidly determine whether there is a genuine threat. If the threat is deemed legitimate, our team can deliver actionable intelligence, including a precise last known location of the shooter, to help reduce the response times of local law enforcement and first responders. 
We are deeply focused on accuracy and preventing false positives. By employing human verification at the ZOC, we are able to ensure that only legitimate threats are flagged to our customers. As former law enforcement and military veterans, our ZOC analysts are experts in identifying the key characteristics of what a genuine gun looks like – versus an airsoft, toy or replica. 
We are tireless with our focus on identifying guns and making sure law enforcement can respond almost instantly. Our team increases our AI's data diversity on a daily basis, taking into consideration a range of attributes including lighting, distance, gun types, cameras, and resolution. Only information about guns is fed into our models.
ZeroEyes is committed to providing a reliable, proactive and accurate solution for detecting potential gun-related threats and ensuring the safety of the public while remaining accurate, impartial and secure. Our software is a powerful tool for keeping people safe and reducing response times in emergency situations. Gun-related violence is still a major issue in our world. ZeroEyes is here to do its part to help save time and save lives.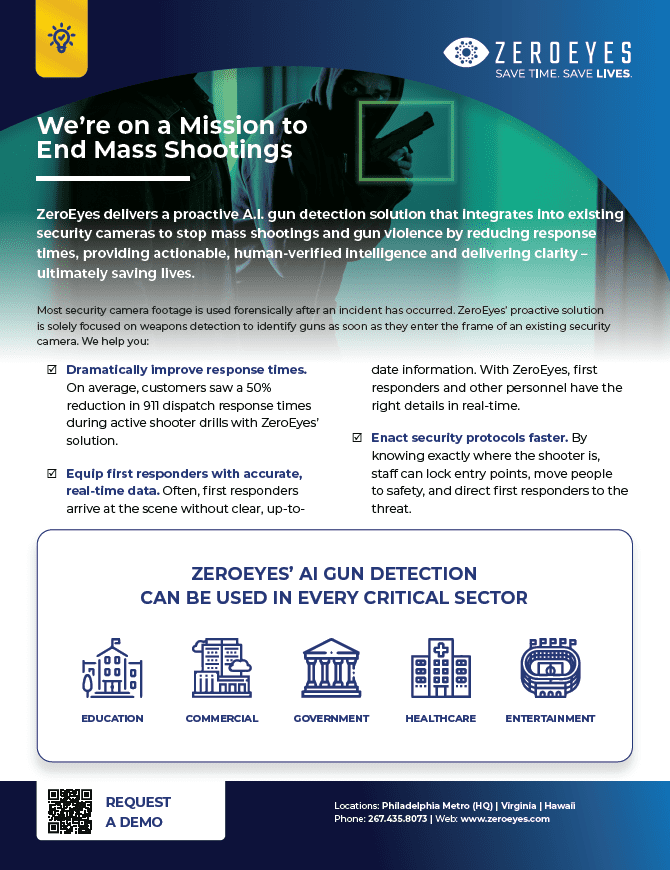 See How ZeroEyes Helps Prevent Mass Shootings
Learn more about the ZeroEyes mission and how A.I. gun detection can play a key role in proactive protection against gun-related violence.