Within the past year, there have been approximately five times more school shooting hoaxes called in to police than actual school shootings reported in 2023.
According to The Washington Post, more than 500 schools nationwide were "swatted" over the past year. 
In just one day in February, over 30 schools were targeted. 
It's just a snapshot of the growing crisis school districts face regarding active shooter hoaxes, aka swatting. Swatting is when a person makes a hoax call to cause a large police or SWAT team response. Essentially, it's a fake shooting threat. 
Here's everything you need to know about this alarming trend. 
Swatting Protocol
When authorities and law enforcement learn of a school shooting threat, a full-blown, active shooter response is required. 
Unlike bomb threats, which can be handled in a fairly calm evacuation, active shooter threats cause a significantly higher degree of chaos, confusion, and fear. 
Swatting incidents started years ago in the online gaming community, eventually leading to the tragic 2017 death of an innocent man. 
So although these threats are fake, they create serious dangers and put everyone at risk. 
With many communities already on edge from the rise of actual school shooting events (there were 302 reported school shootings in 2022 — the most compared to every other year), these fake threats had very real consequences.
Who's Swatting?  
The days of pulling fire alarms are over: Some swatters are misguided students wanting to skip tests or disrupt the day. 

Others act on social media challenges like "Shoot Up Your School Day." 

We've heard reports of swatters being domestic, fear-mongering bad actors from dark online communities. 

Some analysts have compelling evidence

that some of these calls come from overseas as a form of "warfare" or acts of terrorism.
Same Fear, Same Chaos
Fake school shooting threats aren't just inconvenient — they're insidious. 
Fear and chaos grip students, faculty and staff, parents, and the general community. Parents rush to school, instructed to sit and wait out one of their worst nightmares.
Real or fake, trauma happens.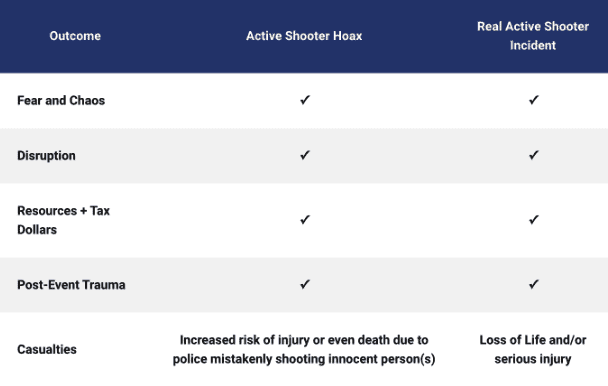 How to Handle Swatting 
Swatting is a federal crime. And not just phone calls — social media posts, text messages, and emails also apply. 
While a solution to prevent swatting doesn't exist, there is something you can do: Provide school administration, on-site security, and law enforcement with advanced situational awareness. 
It can solve two important challenges: 
Unintentional False Alarms 
Here's a real-life example of how we helped one of our education clients avoid a false alarm that could have easily gotten out of control…
Two male students pretended to shoot each other with an app on their phones. The app emitted realistic gunshot sounds and their phones looked like small handguns from afar. Students quickly started posting this on social media and rumors began to spread.
ZeroEyes' A.I. detected this potential gun and our military-trained analysts verified that no real weapons were involved. They contacted school administration and advised that calling law enforcement wasn't needed.
Without ZeroEyes' real-time intelligence, it could have escalated to students and/or staff making 911 calls, mass panic, and hazard risks. 
Better Response Times and Risk Mitigation
Should a bad actor bring a gun on campus, ZeroEyes' A.I. can provide law enforcement with the intel they need to act quickly — sometimes even before shots are fired.
In an active shooter training event, Rancocas Valley Regional High School was able to improve officer response time by nearly two-thirds. The response time for officers to reach the "gunman" without implementing ZeroEyes was 3 minutes and 13 seconds. With ZeroEyes, officers responded and made first contact in 1 minute and 15 seconds.
Knowing exactly who to look for reduces students' hazard risk. In the Stoneman Douglas High School shooting in Parkland, Florida, over 130 calls to 911 were made with conflicting information. If law enforcement doesn't know what the shooter actually looks like, this increases everyone's hazard level.
Download this guide to discover how A.I. gun detection technology can keep schools safer from gun-related violence, or request a demo here.
Who's Keeping Your Campus Safe?
Founded in 2018 by a team of former Navy SEALs and technology experts who lived through countless active shooter situations, ZeroEyes was created to protect people from facing similar circumstances. ZeroEyes delivers a proactive, human-verified, visual gun detection and situational awareness solution that integrates into existing digital security cameras. Providing situational awareness reduces response times — ultimately saving lives.