Superintendents are constantly looking for ways to improve their school district, but when it comes to mass shootings, they often feel at a loss. What can they do? How can they prevent something that seems so random and unpreventable?
By creating a safer school environment, superintendents can attract educators who may have been scared away by the threats of mass shootings.
In this article, we'll explore the nationwide teacher shortages and how they are linked to mass shootings. We'll also discuss solutions that superintendents can consider to create a safer, more welcoming environment for educators — such as investing in visual gun detection technology to prevent mass shootings.
Why Schools Need to Prioritize Mass Shooting Prevention
Although mass shootings are statistically rare, the rise in mass shooting events over the past few years cannot be ignored—not to mention the effects they have on both students and teachers.
According to an EdWeek survey, 6 in 10 teachers say that large-scale school shootings are a key safety concern. And unfortunately, 73% of teachers said they do not believe their school districts are doing a good job addressing gun-related violence.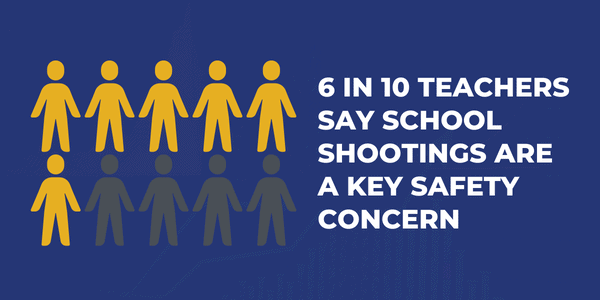 With nearly 55% of educators stating they are ready to leave their profession earlier than planned, it's clear that lack of safety is a big reason that schools nationwide are experiencing staff shortages and difficulty recruiting teachers.
Rise in School Shootings
There were at least 202 incidents of gunfire on school grounds in 2021, resulting in 49 deaths and 126 injuries. So far, in 2022, there have been 113+ shootings, resulting in 41 deaths and 82 injuries.
The lasting impact of gun-related school violence cannot be measured in these numbers alone, but it's a start in understanding just how many people are impacted.
Each incident significantly impacts the students, the teachers, their family members, and the surrounding community. It's not just the people who were shot or killed that are impacted, but everyone who was in the school at the time.
Mass shootings also have a ripple effect on educators nationwide. After each mass shooting, there is an increased fear of gun-related violence in schools. This understandably leads to more teachers leaving the profession and fewer people wanting to become teachers.
The rise in mass shootings is clearly impacting our country's teachers. But what can be done to stop the cycle?
Safety Solutions for Superintendents
As superintendents and educators face imminent dangers, we must consider new options available. Enabling security resource officers (SROs), police officers, security guards, and school staff with the tools they need to keep safety at the forefront of every school day is imperative to preventing teacher shortages.
Superintendents need to look beyond traditional security measures like metal detectors and active shooter drills. In fact, when asked if their school was prepared for a mass shooter event, 63% of PK-12 teachers said "no," even though 71% reported that their school conducts training for students and staff to prepare for the possibility of a mass shooter event.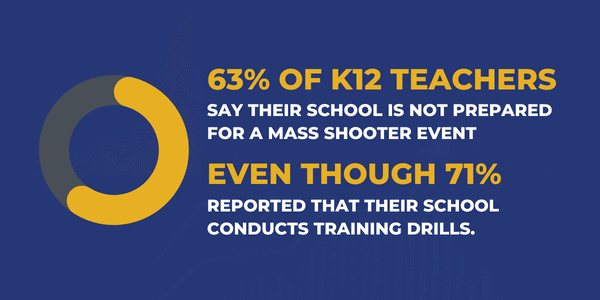 One mass shooting prevention technology that is gaining popularity is visual gun detection. Visual gun detection systems use artificial intelligence (A.I.) to identify illegally brandished guns and alert law enforcement.
ZeroEyes' visual A.I. gun detection solution integrates into existing school security cameras, so law enforcement can quickly identify the shooter's location and respond accordingly. This solution also provides situational awareness—like geolocation, an image of the shooter, and breadcrumbs of where the shooter was—to SROs, school administration, and law enforcement.
Why Is Situational Awareness Important?
Situational awareness is knowing what is happening around you and being able to quickly identify potential threats. This information is critical in an active shooter situation because it can help law enforcement pinpoint the location of the shooter, apprehend them more quickly, and prevent further casualties.
Some might argue that hiring more SROs will help, but that won't solve the problem. While they are a necessary layer of security, adding more SROs doesn't solve the core challenge law enforcement faces: lack of situational awareness. For example, 376 law enforcement officers responded to the Uvalde shooting but failed to take action because they did not have situational awareness.
Visual A.I. gun detection technology can help school administration, SROs and first responders understand when and where threats are in the building, resulting in better response times — despite how many SROs are on staff. This is critical because it's impossible to be everywhere and monitor cameras constantly.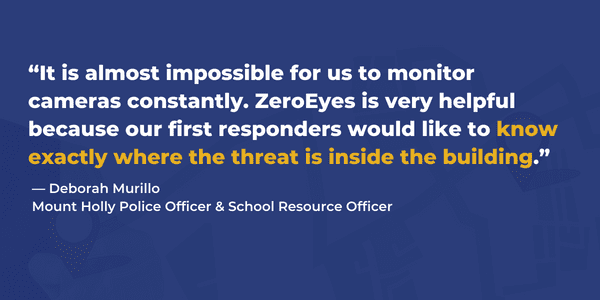 A Safer Environment Attracts Educators
According to the National Center for Education Statistics, there were 3.3 million public school teachers in the United States in the 2017-2018 school year. In the school year 2020-2021, that number decreased by 300,000. Additionally, the number of Americans training to become teachers has dropped by one-third since 2010.
The mass shootings in Stoneman Douglas High School, Robb Elementary School, Columbine High School, and Sandy Hook Elementary School, among others, have led to these dwindling numbers.
Creating a safer environment in schools is essential to attracting educators. The push for expansive mental health services and better security continue to be top priorities for teachers fighting for the safety of their students and themselves. When school districts invest in mass shooting prevention technologies, like visual A.I. gun detection, they are sending a message that they are committed to the safety of their students and staff.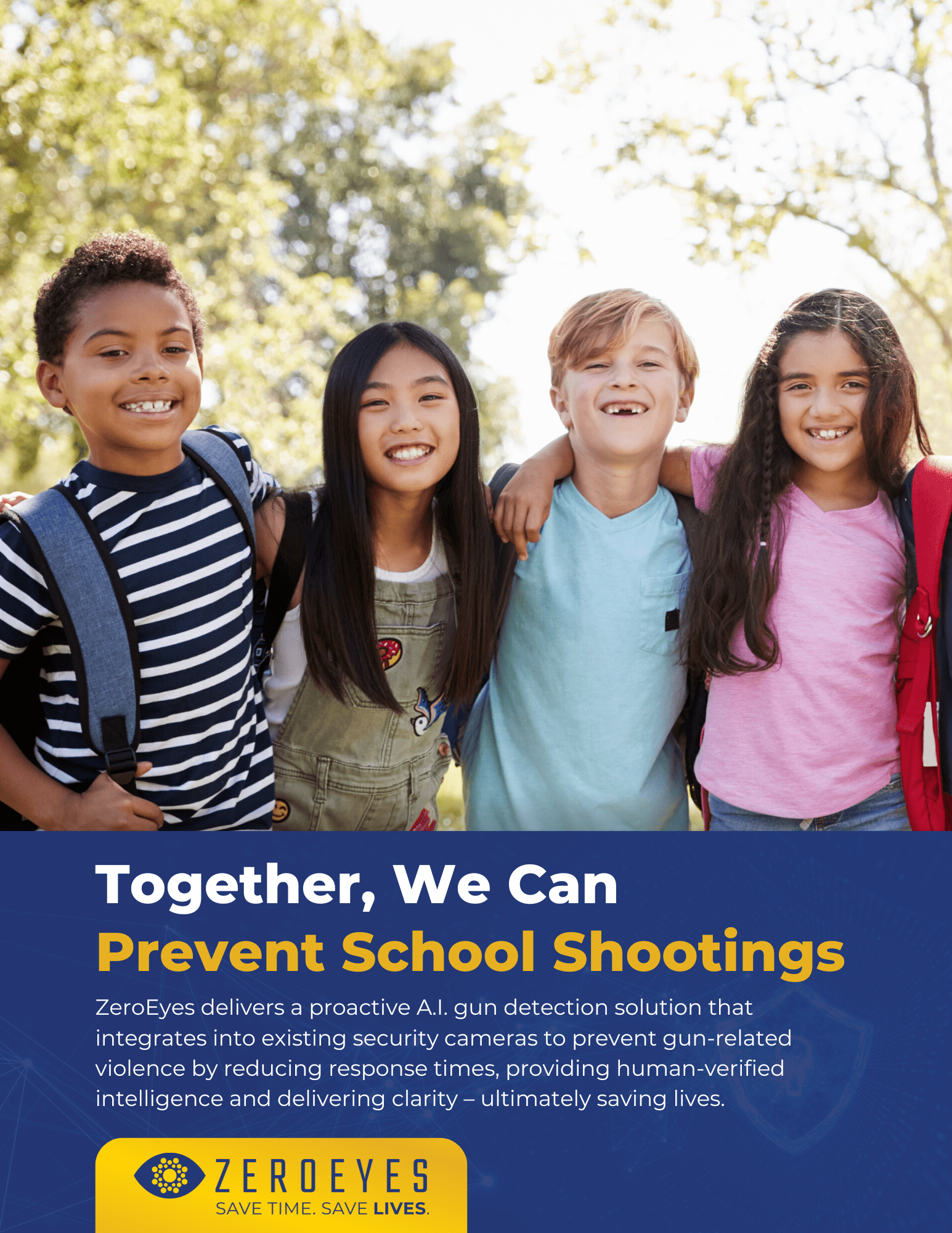 See How You Can Create Safer Schools With Proactive Gun Detection Technology
Download our brochure to learn more about the state of school shootings today and what can be done to prevent them.
visualWhat Support Do Teachers Need to Feel Safe?
47% of surveyed employees stay with their employer when they genuinely care about the safety of their employees. And while 89% of employees believe a safe work environment is more important than ever, only 54% believe that their employers agree.
This is where the disconnect lies and why we continue to see a shortage of teachers nationwide.
Feeling safe is more than just a state of mind—it's also about having the right tools and support. To feel safe, teachers need:
Better access to mental health services
Support from school administrators
Technology that can help prevent mass shootings, like visual A.I. gun detection
When teachers have access to the support they need, they are more likely to stay in the profession. And when we can retain talented educators, we can provide a better education for all students.
Better Mental Health Resources
Many teachers have spoken out about the need for better mental health resources in schools in the wake of mass shootings. 1 in 5 American adults experience mental illness, so it's no surprise that teachers are also affected.
Mental health is an important issue for teachers because they often work in high-stress environments. In fact, teachers report higher levels of stress than most other professionals. The demands of the job can lead to anxiety, depression, and burnout.
Better mental health resources can help teachers feel supported and reduce the risk of burnout.
Some ways to improve mental health resources in schools include:
Making sure there is a counselor or social worker in every school
Providing training on how to identify and support students with mental illness
Offering mental health services to teachers
When we invest in the mental health of our educators, we are also investing in the future of our students.
Support From School Administration
In addition to feeling unsafe, many teachers also feel unsupported by their school administration.
This lack of support can lead to burnout and eventually cause teachers to leave the profession. Teachers are more likely to feel isolated and stressed when they don't feel supported. This can impact their teaching ability and lead to poor student outcomes.
To create a supportive environment for teachers, administrators need to:
Provide regular feedback
Give teachers a voice in decision-making
Offer professional development opportunities
Show appreciation for teachers' hard work
When administrators take the time to support their teachers, they can create a positive school culture that leads to better student outcomes.
Improved Safety Infrastructure Upgrades
When evaluating your school security system, keep in mind that most systems are reactive; alarms go off, and people begin running for safety only after a crisis occurs. The best security systems are proactive, preventing or identifying potential threats before danger strikes.
While cameras, door blocks, and buzzer systems are important and should be upgraded and maintained as a part of a multi-layered security approach, ZeroEyes' visual A.I. gun detection software is the only solution that detects visible guns and proactively alerts authorities of a threat.
Schools considering visual A.I. gun detection technology should look for a vendor with:
A solution that uses proprietary, real-world, and comprehensive datasets to maintain accuracy, privacy, and security.
A system with a measure to prevent false positives, like human verification.
A system that specializes in gun detection, rather than offering high-risk facial recognition (which has both political and ethical concerns in K12 institutions) or multiple services of questionable quality.
A company that provides immediate warnings and ongoing, real-time data to first responders to help them neutralize the threat, along with real-time collaboration with experts in weaponry and emergency response.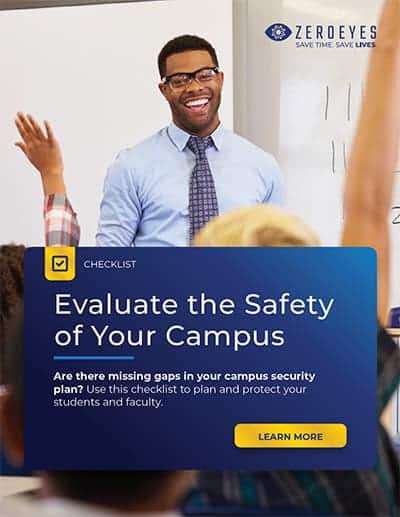 Have Questions About the Safety of Your Campus?
Download our checklist to evaluate the safety of your campus and discover how ZeroEyes can fill the gaps in your security.
DOWNLOAD CHECKLIST NOW
visuaD
The ZeroEyes Solution
Superintendents and school officials need to recognize that school shootings—regardless of where or how they take place—create serious, far-reaching effects, like nationwide teacher shortages. In order to effectively address the teacher shortage issue, school districts must create a safe environment that will attract and retain educators.
A visual A.I. gun detection solution like ZeroEyes can help make schools safer by quickly identifying firearms like handguns and semi-automatic rifles and alerting authorities of the potential school shooter before a mass shooting occurs.
What Sets ZeroEyes Apart From Other Security Solutions
Works With Existing Digital Security Cameras: Our software integrates with an organization's existing digital camera systems to detect weapons and alert onsite staff, security, and local police as fast as 3-5 seconds with real-time, actionable intel. This is also cost-effective because schools don't need to invest in expensive hardware costs that are typically required of other security solutions.
We Specialize Solely In Weapon Detection: We respect and protect privacy rights, which is why our visual A.I. software is designed to detect guns and nothing else. Our software is incapable of facial recognition, audio recording, or other invasive types of technology. This protects privacy rights and avoids bias or discriminatory profiling of any kind—making it a safe and secure solution for school systems.
Our Technology Is Vetted By Homeland Security: We're the only video analytics technology to receive the DHS Safety Act designation, highlighting our ability to accurately detect guns.
Taking Steps to Safer Schools
Mass shootings are unpredictable, but we can take steps to prevent school violence to keep our students and staff members safer. Visual A.I. gun detection is a critical piece of the puzzle, but it's not the only solution.
Creating a multi-layered approach to school safety by incorporating visual A.I. gun detection technology, mass shooting response protocols, and having a comprehensive school security plan can make a big difference in saving lives and protecting our schools.
Download this guide to learn how visual A.I. gun detection can help keep your students and teachers safer from gun-related violence.