On February 14, 2018, an armed assailant returned to his former high school and unleashed a senseless tragedy upon students, faculty, and staff. The shooting claimed the lives of 17 individuals at Marjory Stoneman Douglas High School while injuring 17 others. The event, which took place in the Miami suburb of Parkland, Florida, became the deadliest mass shooting in a high school in United States history—even surpassing casualty rates from the Columbine shooting in 1999.
In the wake of the Parkland shooting, community members and parents rallied to create new policies that would reduce risks associated with future shooting events. Alyssa Alhadeff was a 14-year-old student killed in the shooting, and her mother, Lori Alhadeff, took deliberate action in the weeks that followed. Ms. Alhadeff's advocacy led to the creation of legislation, known as Alyssa's Law, that mandates mobile panic alarm installation in elementary and secondary schools.
In this article, we'll explain the specific mandates that Alyssa's Law seeks to establish. We'll also shed light on how early-warning critical situational awareness technology—along with silent alerts through Alyssa's Law—are key to ensuring that educators have proactive warning systems for active shooter emergencies.
What is Alyssa's Law?
At its core, Alyssa's Law seeks to minimize or reduce threats from active shooter emergencies in different school settings through the use of smart, mobile alert technology. The legislation ensures that schools are equipped with specific tools (like warning lights or panic alarms) that help police and emergency responders locate active threats and take action to end shooting events more quickly.
According to Make Our Schools Safe, a national nonprofit organization, Alyssa's Law includes:
"…critical legislation addressing the issue of law enforcement response time when a life-threatening emergency occurs, because time equals life. The law calls for the installation of silent panic alarms that are directly linked to law enforcement, so in case of any emergency they will get on the scene as quickly as possible, take down a threat, and triage any victims."
Where is Alyssa's Law Being Implemented?
Introducing Alyssa's Law in school systems extends to public elementary, public secondary, and charter schools. As of June 2020, Alyssa's Law was passed in Florida, where the Parkland shooting took place. Prior to that, the legislation was voted into law in New Jersey in February 2019.
As of 2022, Alyssa's Law has passed in New York and has been proposed in states like Nebraska, Arizona, Texas, and Virginia. Texas Representative Roger Williams has also introduced a federal version of the bill to bring Alyssa's Law to vote nationally.
Across all states, it's crucial that school leaders and administrators regularly reassess security protocols to look transparently at policies that are working and those that aren't.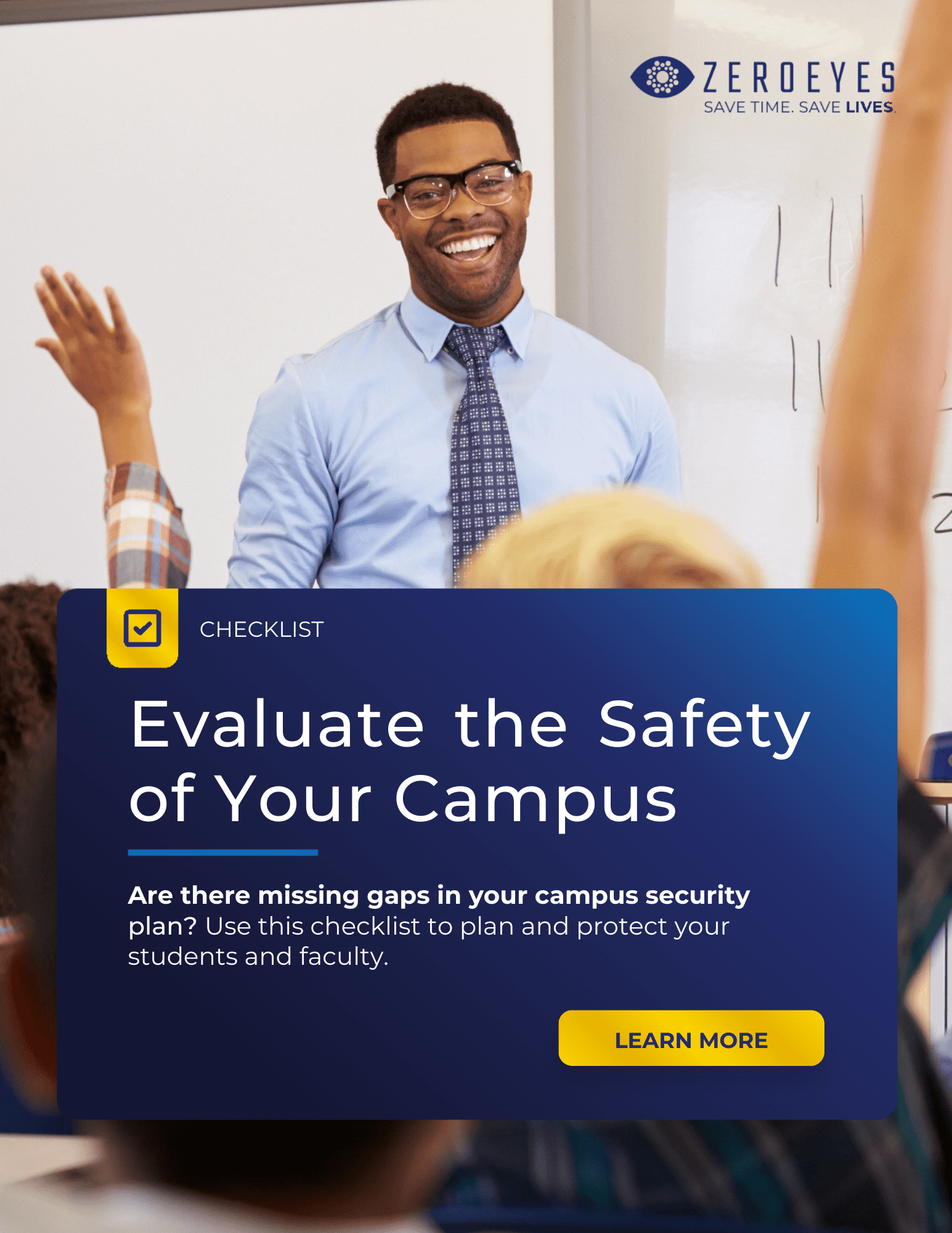 Get the School Safety Checklist
Download our checklist to assess for potential vulnerabilities or missing gaps in your school's security plan.
The Tragedy Behind Alyssa's Law
Alyssa's Law was born from parent advocacy. In the wake of losing her 14-year-old daughter to a tragic school shooting, Lori Alhadeff channeled her grief into action. Along with other Parkland parents, Alhadeff began to lobby state and federal lawmakers.
These efforts came on the heels of revelations about the Stoneman Douglass massacre that rattled the community. Media attention turned to the armed sheriff's deputies who failed or chose not to storm the building and seek out the active shooter.
Reports and witness testimonies revealed a scene of chaos and disorder. In addition to lackluster response times, officers arriving on the scene were confused about where the danger was coming from. Reportedly, some officers could not use their communication devices to dispatch additional first responders and paramedics due to radio issues and overburdened 911 lines. In hindsight, these points of confusion wasted precious time and resulted in further loss of life.
After the shooting, it was also reported that a staff member who was responsible for monitoring campus video feeds may have observed the shooter's movements before the attack but did not raise any further suspicions or sound alerts before the violence started. Due to unsettling news like this, Lori Alhadeff and other parents championed the need for smart, fast, and responsive alert systems in schools like Stoneman Douglas High.
Alyssa's Law: Advocacy in Action
Parents and students alike began to use their collective voices for public awareness. In the aftermath of the Parkland shooting, students became more involved in advocating for sensible gun legislation to protect lives and reduce the risk of violence in typical American classrooms.
As a result of many influential protests, marches, and meetings with lawmakers, the groundwork for Alyssa's Law was introduced less than two years after the horrible events of February 14, 2018.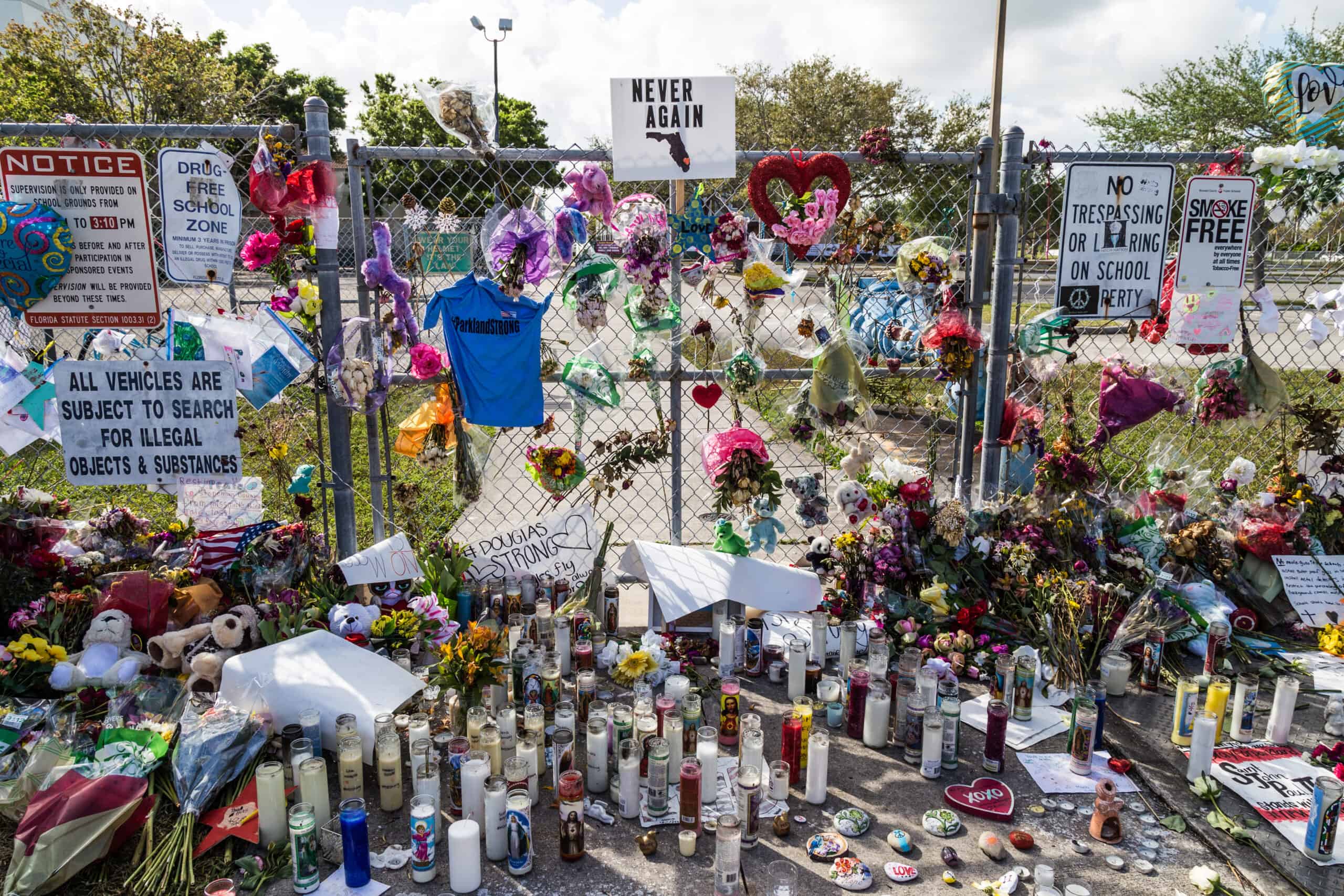 Speaking about the necessity of Alyssa's Law, Lori Alhadeff shared with Reuters, "I had no control on February 14. And as a mother, when you have your children, you need control. But now I have control. I have this power, and I am using that power by using my voice."
What Requirements Does Alyssa's Law Mandate?
Alyssa's Law calls for the installation of mobile panic alert systems in public and charter schools. By law, these alert systems must:
Connect to multiple emergency services communications
Facilitate real-time communication between first responders and responding agencies
Integrate with any pre-established "public safety answering point infrastructure"
Transmit all 911 calls and mobile activations
In states like Florida that have already passed Alyssa's Law, compliance often depends on a list of state-approved vendors and technologies. Compliant vendors are regularly updated to provide additional options to school systems and administrators.
Factors that School Administrators Must Consider
Although the current mandates are only active in a small number of states, school districts must be prepared to adhere to life-saving compliance measures when and if they are signed into law.
Additionally, school administrators have a duty to survey all factors and make well-informed decisions that could save innocent lives. These considerations include:
Litigation and legal liability – When maintaining a Duty of Care, school personnel and local authorities may be held directly responsible for their action or inaction in a moment of crisis. This was clearly observed in Parkland, Florida, when multiple deputies were placed on leave following a legal review of their decisions on the day of the shooting.
Risk management – Most school leaders want to take steps to reduce viable risks, but the act of investing resources into specific plans can sometimes get shuffled behind competing priorities. Careful risk management must be at the forefront of school planning in order to adhere to rules like Alyssa's Law and to be receptive to new and innovative technologies like ZeroEyes.
Brand reputation and public image – In the wake of a school shooting, leaders and law enforcement personnel are likely to be put under the microscope. While it is difficult to judge motives and intentions, public brand image can quickly become lost in the aftermath of senseless violence. To protect its reputation (while creating policies that reduce harm as much as possible), school districts must invest in innovative solutions that reduce threats before they materialize.
Are Panic Alarms Enough to Solve the Issue of Gun-Related Violence in School Systems?
Panic alarms offer a quick solution to emergency situations in school environments, and school systems are working to secure thousands of panic buttons for teachers and staff.
How Panic Alarms Help Schools
Benefits of panic alarms include the ability to silently trigger alerts to emergency responders without having to physically call services like 911.
This is helpful because, in an active shooter scenario, people are advised to "Run, Hide, Fight" and to only call 911 when it's safe to do so. When hiding and evading an active shooter, it's critical to stay quiet and silence phones — which, of course, makes it difficult to notify law enforcement when you need to most.
Many panic buttons are also wearable or available through mobile devices, which means they're inconspicuous and portable.
While panic alarms are a great addition to school environments, they simply aren't enough to solve the problem of gun-related violence on their own. Schools must have multi-layered security systems in place to keep students and staff as safe as possible.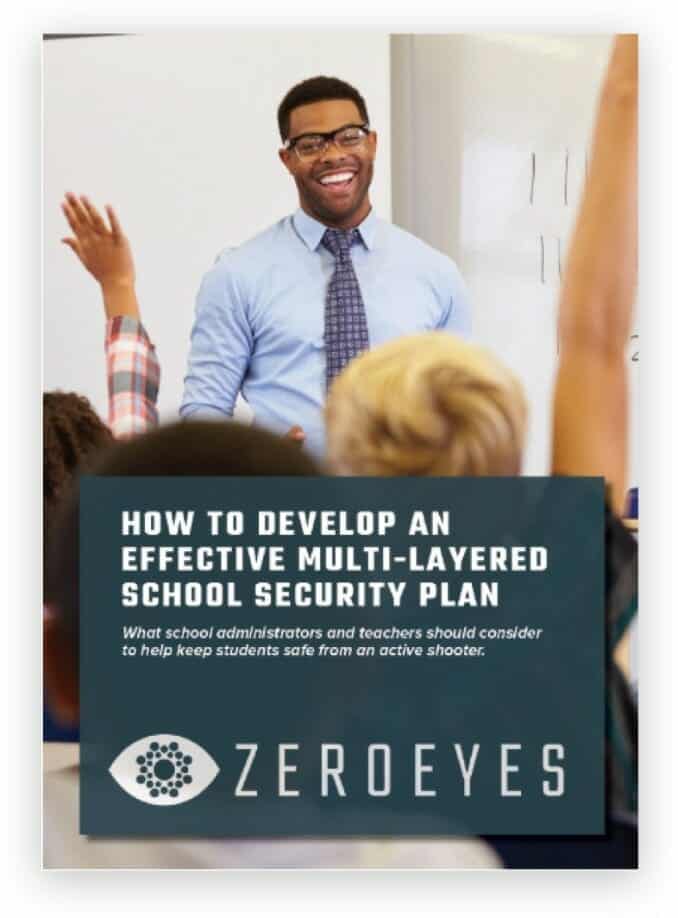 See How to Create a Multi-Layered School Security System
Download our guide to learn what you should include in your school security plan, how to handle a lockdown due to an active shooter event, and more.
How ZeroEyes' A.I. Helps Schools
Early-warning critical situational awareness technology, like ZeroEyes, can be paired with silent alerts like those mandated in Alyssa's Law.
ZeroEyes offers an invisible layer of protection since the technology is installed on existing digital school security cameras. The main advantage of ZeroEyes, however, is that it's proactive, rather than reactive. visual A.I. technology identifies threats before they're active, rather than relying on bystanders to manually push a button or trigger a mobile alert.
Additionally, once an alert is verified and dispatched, ZeroEyes can provide law enforcement with the shooter's exact geolocation, visual description, photograph, and weapon identification. This removes the burden from innocent bystanders who are unable to contact law enforcement.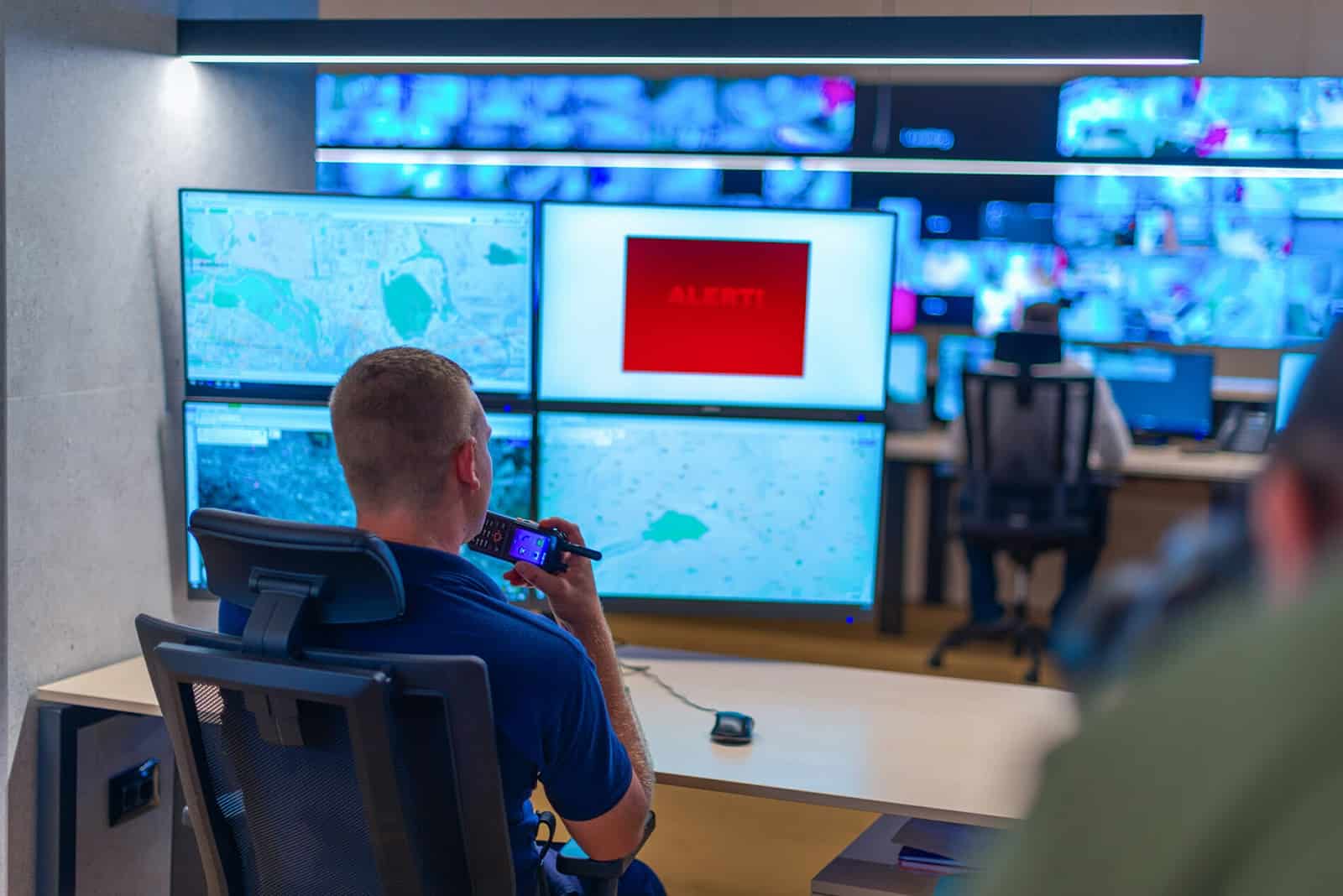 The ZeroEyes Operations Center (ZOC) is manned with military-trained analysts 24/7/365 to verify each gun detection and dispatch the alert to law enforcement and school administration.
Together, panic alarms and visual A.I. gun detection can help save lives. Unfortunately, it is no longer enough to hope that one tactic alone is enough to reduce or mitigate the threat of active shooters. A school's best course of action is to implement multiple layers of security.
The Case for Early Warning Detection Systems in Schools
When lawmakers or school leaders choose to make early warning technologies like ZeroEyes required in schools, it would add another layer of life-saving security. School districts around the country are already taking active steps toward incorporating more A.I.-powered technology into everyday operations.
Most recently, Michigan's act 144 section 97 provided schools with funding for A.I. gun detection technology for Michigan public schools. Moreover, Oxford High School and Vassar Public Schools have already taken initiative by installing ZeroEyes in their schools.
Jill Lemond, Assistant Superintendent of Safety and School Operations at Oxford says, "We are committed to providing a safe and secure learning environment for our student body and see ZeroEyes as playing an important role moving forward."
Dr. Dorothy Blackwell, Superintendent of Vassar Public Schools shares a similar enthusiasm when it comes to finding a comprehensive strategy. Dr. Blackwell points out:
"ZeroEyes is not just an A.I. solution; the company has retired military and law enforcement experts monitoring every single suspicious frame 24 hours a day. This is a huge deal. It is the only solution we have encountered that's actually proactive.

We have expert eyes watching for possible brandished guns at the school at all times and communicating threats to law enforcement immediately. When I look at the time and effort that ZeroEyes puts into protecting our students, I'm very excited about what we're getting for our money."
What Sets ZeroEyes Apart from Other School Security Measures?
Legislation such as Alyssa's law makes it clear that gun-related violence is an epidemic, and school leaders must take action today.
Statistically, most violent gun events are "staged," which means that the weapon is brandished for many minutes before it becomes an active event. ZeroEyes' A.I. software is different from traditional school security measures, in that it identifies and detects the presence of a gun before shots are fired. Illegally brandished guns visible on camera are detected by our A.I., and the alert is verified by a ZeroEyes analyst before dispatch—a process that is as fast as 3-5 seconds.
In recent active shooter training scenarios, ZeroEyes' gun detection system reduced officer response time by almost two-thirds. With any situation involving innocent lives, these seconds and minutes are critical.
Take Action Now to Prevent Gun Violence
In light of growing concern about school shootings, it's more critical than ever for school districts to perform risk assessments of their current protocols and active policies.
Legislation such as Alyssa's Law contributes to a culture of awareness and planning. Being proactive (rather than reactive) can save time in the event of a true emergency and help dispatch resources where they are needed most.
It takes more than one layer of protection to help school systems reduce the risk of gun violence and potentially save innocent lives. Visual A.I. gun detection technology is a crucial piece of the puzzle, as it reduces response times, offers actionable intelligence, and delivers clarity to law enforcement and staff.
Download our guide to learn how to develop an effective multi-layered school security plan.